Meet the Toot's Restaurants


Leadership Team


Wade Hays
President and Owner-Operator

Wade Hays been with Toot's Restaurants since the 1980's, first as the Managing Partner, then later in 2005 he and Keitha purchased the original Toot's on Broad St. and began the group of Toot's restaurants you see today.

He has served on many local Boards of Directors such as The Boys and Girls Clubs, The Chamber of Commerce, The United Way, The Discovery Center at Murfree Spring, and The Red Cross to name a few. In 2000, he was selected by the City of Murfreesboro to serve on The Mayor's Task Force to purchase the property now known as Medical Center Parkway…. Murfreesboro's Gateway!

Wade has received numerous awards such as:
-The Tennessee Boys and Girls Clubs Board Member of the Year-
-MTSU's Business Person of the Year-
-The Chamber of Commerce Chairman's Award-
-The Chamber of Commerce Business Person of the Year-
Keitha Hays
Officer and Owner-Operator

A "Registered Nurse" by trade, Keitha has been the Co-Owner and bookkeeper for Toot's for nearly 20 years.
She has been heavily involved in all of Toot's business decision making as well as it's Philanthropy. She is responsible for Office Administration, HR, and payroll. She also maintains legal and tax compliance for the nearly 400 Toot's employees as well as approximately 100 vendors and agencies. Keitha is truly a benevolent force in Toot's restaurants' ongoing success.

Keitha and Wade have been married for over 35 years and have three children: Nick, Rachel (Peters), and Sam.
They have 3 Grandchildren: Jack Hays, Vivian Peters, and (the late) Kate Hays.
They are members of New Vision Baptist Church in Murfreesboro.


Bill McCrary
Director of Operations for Toot's

Born and raised in Nashville, Tennessee, Bill Graduated from Cheatham County High School in 1985 and got his first job as a dishwasher at Toot's in 1986. He was promoted to the General Manager in 1990. In 1997, he moved to Bowling Green, Kentucky to operate and run the Toot's location for over 12 years. Bill moved back to Murfreesboro in 2009, to become the Director of Operations. He has helped open all of the Toot's locations over the years, which now has near 400 employees company-wide. As the longest tentured employee, Bill had been employed with Toot's Restaurant for over 34 years and continues to strive for Good food and Fun!



Nick Hays
Assistant Director of Operations
Nick joined the Toot's Staff in 2002, and has since worked in many capacities, at every location. He fell in love with the restaurant industry while attending school. After recieving his BBA from MTSU, he joined the Toot's Management team in 2011. He assisted in opening the newest location, Toot's West, and looks forward to our future as a company. He currently lives in the Blackman area with his wife Lauren, and son Jack. He is an avid cyclist, and especially enjoys mountain biking.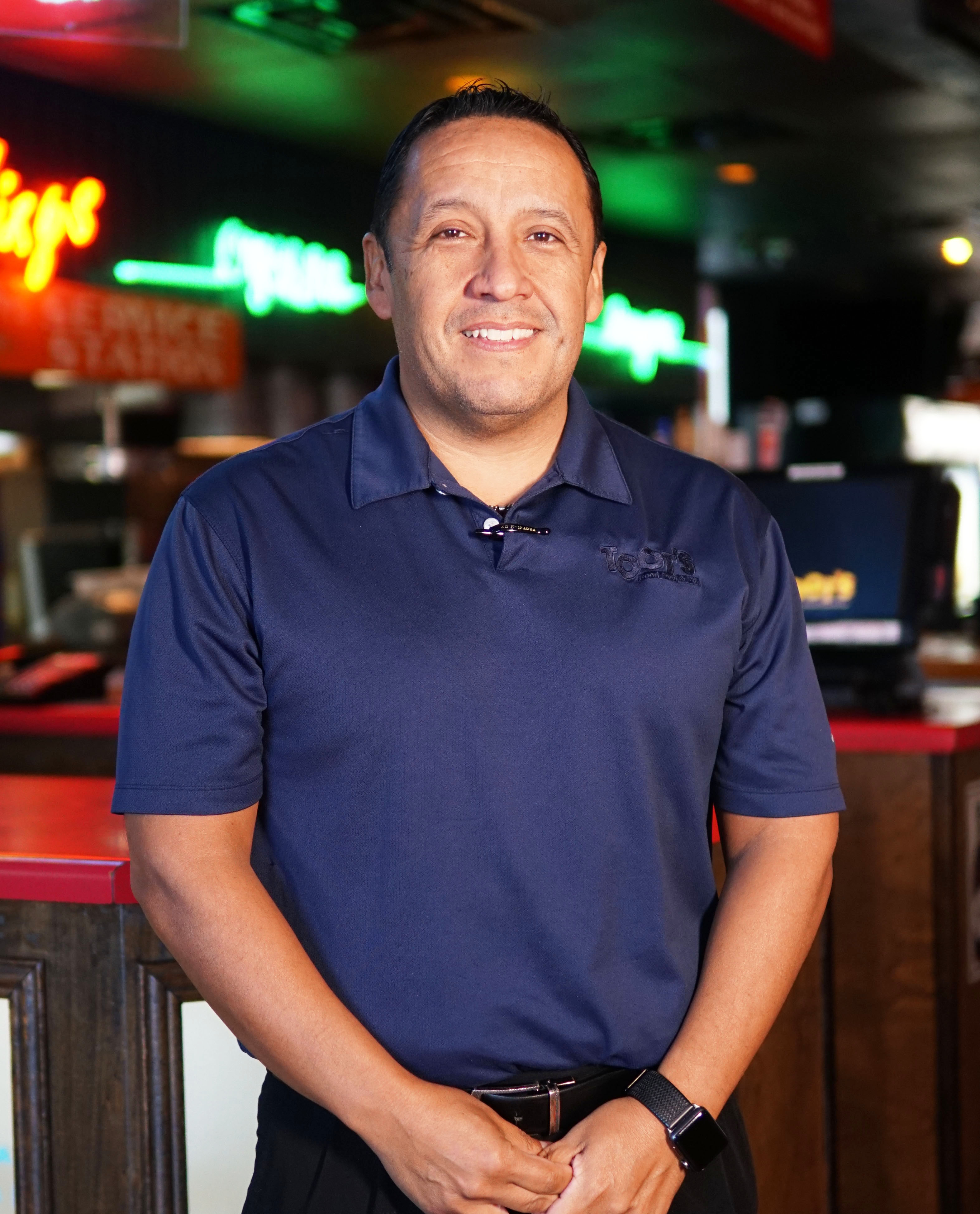 Toot's Broad Street
(Est. 1985)
John Renteria
General Manager

John was born in Los Angeles, California. He lived in El Paso Texas during his middle school years and moved to McMinnville Tennessee in 1985. John has been in the restaurant business for 25 years, and has lived in Murfreeboro since 1988. He is a graduate of MTSU with a Bachelor of Science degree in Public Administration. John was on the opening team and General Manager of Toot's on South Church Street, and has been with Toot's for almost 11 years combined. He has always felt Toots has been a stable and well-respected restaurant in our community, that has withstood the test of time with its great food, prices, and service over the years. In his spare time he enjoys golfing with his friends every chance he can get, traveling, going to the gym, and watching his favorite teams play.




Toot's South Church St.
(Est. 2010)
Johnny Maurizi
General Manager
Johnny Maurizi is the General Manager at the Toot's on South Church Street, and prior to that he was the General Manager at Toot's Smyrna. He is originally from Smyrna, Tennessee and has lived there for 29 years. Johnny's hobbies include making music and playing piano. He has been in the restaurant industry for 10 years now and has been with Toot's for the entirety of that time. He is a graduate of Middle Tennessee State University with a major in marketing and a minor in business administration. Both of Johnny's parents live in Smyrna Tennessee and they work for Bridgestone America Corporation (mother) and Cooks Pest Control (Father) as managers.





Toot's West
(Est. 2019)
Macey Johnson
General Manager
Macey Johnson is the General Manager of Toot's West and has been a member of the Toot's Staff since 2014. She first started her career at Toot's South at the age of 16 while attending Riverdale High School. Throughout her time at Toot's, Macey has worked as a Server, Host, Cashier, Bartender, Manager, and General Manager. Macey lives in the Christiana area with her fiancé Austin Wilson. In her spare time she enjoys being outdoors and spending time with her two dogs, Leo and Tiny.